Prefere Fleur aneb La Fleur Préférée aneb Préfère les Fleurs
---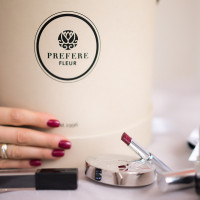 Before you get cross and frustrated with us for our ignorance and for ruining the lovely French language, please, read on! Of course we understand why you get the feeling like there is something weird about our name. Isn't it all twisted and mixed up? Seems like there is one E missing somewhere and a stroke over the second E has dissapeard, the one called l'accent aigu,? Sure sure, you are right, we are guilty on all counts.
Only maybe...
What if we just want to say a bit more than it seems?
Despite all our love and passion towards our flowers that we mainly focus on, we also offer all kinds of tit-bits and additional services. And we would like to even widen our scale and scope and stroke for the future. And henceforth we hope, that you will prefer us, you will favour us and that you will be happy to opt for our products and gifts.
So when we say "PREFERE", we are actually gently and finely calling out and egging you on to: "Come closer and get a little flower from our kiosk, you won't regret!" Again, we are sort of flower girls in the market-place too, aren't we?
And when we add "FLEUR" right behind "PREFERE" - not only we make a fine rhyme PREFERE FLEUR - but we sense a deeper meaning and an inner parallel within it. Make love, not war... No to guns, prefer the flowers! Isn't it a symbol of love - especially when it comes to roses - a way how to make someone's eyes shinny, a delicate weapon to soften someone's heart? Donate a piece of joy. You can easily express your feelings and with regards to others you may be even able to wake up theirs.
Czech writer Julius Zeyer said: "Women should not be hit, not even with a flower!" and there was a movie made by Zdeněk Podskalský about it. And we must agree. First of all, hitting a lady with a bunch of 31, 51 or 101 roses may be already rather painful, but also - it's simply not a nice thing to do.
Haven't we convinced you with our home-made philological insight yet? Right, there is still one more argument (well rather an excuse) to be used. We are florists, not an Institute of French language. Even though we have been working with a wise flora for quite some time, there is still a lot we can learn.
---
24.04.2020