A tale of love and roses
---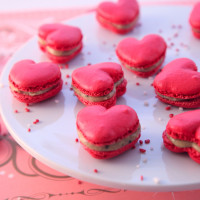 Do you know, how the Prefere Fleur online florist shop was born?
In any nativity story, it's love that must be present of course. A young girl Alenka visits Prague for the first time in her life and - as so often - she falls in love with a smart young lad. And that's where the "happily ever afer" and the end of the fairy tale is meant to come, right?

Naturally it's how it almost went, because starting your own business in the foreign country is nothing like a storybook. Especially when this foreign country is Czech Republic and when you are not a native Czech speaker. Which Alenka wasn't, unfortunately. However, love – and love towards flowers above all - can overcome all sorts of obstacles as well as language barriers. After winning a fight with wild and evil dragons (well, I mean Czech authorities of course), she established the Prefere Fleur brand (you can read the story behind the name here) with everything necessary to complete this step. Since the flower business stands on the quality and freshness of the flowers or falls together with the caduceus petals, Alenka decided to stay on the safe side and partnered with the well-known floral empire – Holland.
Ok, the content is fresh and clear, but what about the form? The round hat boxes idea is certainly nothing revolutionary, but it seems like Czech Republic is only slowly stumbling behind the rest of the world. While it's apparently an elegant, simple but a fancy presentation. All the same it needed something more, an icing on the cake, a chocolate flake in the cone of ice cream. Or the macaroons in the box. That's how the idea of inventing the packaging that can hold both the sweets and flowers, without having them disturb and ruin each other.
The expert team from Great Britain in partnership with the greatest thinkers from Far East developed a unique round box "for the hats" with a special double bottom, therefore with a double joy of surprise. Just imagine - you get a hat box and you ask yourself: "What on Earth am I supposed to do with a hat these days?" And then you open the box and you discover the most perfect bouquet of all times and you just lose speech. A moment after you catch sight of the attached message to find out that you haven't touched the bottom yet (meaning the very bottom of the box), because you can crack the bottom wide open. Voilà! The tastefulness of the macaroons melting on your tongue will bring your speaking back and put the roses back into your cheeks too. And here we return to the beginning of the story, sort of. While Marcel Proust's In Search of lost time begins and ends with a cake, the story of Prefere Fleur is defined by love. After all the flowers are most often donated out of love, aren't they?
---
01.05.2020