Hat box flowers ... and a life-long love story
---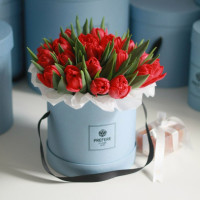 The beginning of using hat boxes in floristry is connected with a love story of Bernard Shaw. Famous Irish writer was passionately in love with an actress. Stella Campbell captivated him with her talented performance on stage.

Numerous fans' attempts to win the favor of a beautiful actress by giving all sorts of gifts failed miserably. But not in the case of Shaw. He gave Stella an original bouquet in a hat box and enclosed a love note.
Their correspondence had lasted 40 years. After Stella's death, all letters were found in a hat box under her bed. In the box that Bernard gave her. Since then, flowers in a hat box have been considered as a symbol of love and endless devotion.
Florists from Prefere Fleur think about this touching story every time making another bouquet in a hat box. What will be the story of your bouquet?
Creation technology
All bouquets are hand assembled and beautiful boxes perfectly complement the composition. Delicate buds are protected from damage, and a floral oasis prevents flowers from withering. We put a floristic sponge inside the box that keeps plants fresh.

Advantages of bouquets in boxes
You can present hat box flowers in any place without worrying about the freshness of the bouquet. Flowers are also easy to carry and comfortable to hold.

It is easy to care for hat box flowers. You do not need to recut plant stems and change the water in the vase every day.
We offer to use a box with unique double bottom technology. You can put a gift there, e.g. a jewelry, a small soft toy or French macaroons.
You will get an original gift for an affordable price. The hat box bouquet is appropriate to present not only to your beloved, but also to relatives, friends, colleagues or even to your boss.
---
01.05.2020