Which flowers are the best
---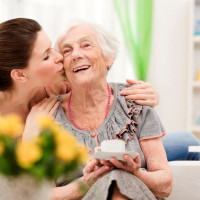 Mom gave us life. She was with us in the most difficult moments and she shared so important moments of success with us. What flowers to give to express love, appreciation and just glad your mom?
Mom always appreciates the flowers you present, whether it is a modest bouquet of field forget-me-nots or a huge bouquet arranged by a professional florist for her birthday. Professionals from Prefere Fleur will help you to choose the right flowers for your mom. You can help us if you describe her character, favorite color, hobby or an occupation.

Try to find out what flowers she likes, whether she has an allergy, and if she likes flowers with a strong smell. If you are not sure, give preference to flowers with a delicate aroma. It would be better to give her lilies or lilac in the summer, when she can take the flowers to the balcony, if it is necessary, or left an open window in the room. Try to choose bouquets of pastel colors. This way you will show your love, tenderness and respect for your mother. A good option would also be flowers without packaging. Choose delicate peony or classic roses, freesia or tulips.
Roses are the classic choice. Avoid greenish-white shades. These colors are commonly used in wedding bouquets. A bright scarlet color means passion, so better give it to your girlfriend. Prefer pink, milky-beige or maroon roses. They look expensive and noble.
If you want to surprise your mother, choose a bouquet in a flower box. We have boxes with cute inscriptions and even boxes with a double bottom where you can hide French Macarons or a small box with jewellery.
Whatever bouquet you buy, give it to mom with love.
---
01.05.2020