How to care for fresh flowers
---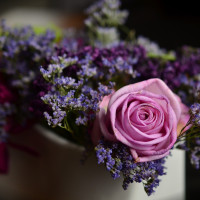 Flowers can sometimes say more than words. They are able to tell about the emotions and feelings of the giver.
Use a few simple recommendations from Prefere Fleur florists to keep the flower arrangement pleasing to the eye and keep its freshness.
Traditional flower bouquet
First of all try to choose the right size of vase for a bouquet. The stems of the plants should be immersed in water by half. Before putting flowers in a vase, remove the wrapping paper and cut the stems into 1–2 cm lengths. It is best to put the flowers in chilled water. Do not forget to add a special flower powder to the water. It is usually attached to the bouquet. The flowers will stay fresh much longer with this powder. After a few days, change the water in the vase again and cut the stems. You can also spray buds and leaves with clean water. Do not forget to cut wilted or dried parts of plants in time. Keep the bouquet away from direct sunlight and radiators.
Hat box bouquet
Hat box bouquet looks original and aesthetically pleasing, and most importantly does not require much care.

Do not pull the flowers out of the box. There is a floral oasis inside — a sponge soaked in a special aqueous solution that keeps the flowers fresh. Once every two days, pour a half cup of water between the flowers. Be careful and do not fill the box with water! Do not forget to spray buds and leaves and cut dried parts of plants. Place the bouquet away from direct sunlight and radiators. Do not throw away the hat box, you can use it to store useful little things.
---
01.05.2020