Top 5 bouquets for Valentine's day
---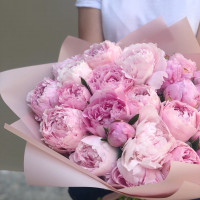 Florists from Prefere Fleur are glad to present the top 5 bouquets for Valentine's Day. They also give you some recommendations that will help express your feelings using the language of flowers.

1. Bouquet of roses
A small bouquet is talking for itself. Huge bouquets of 51 or 101 roses will impress anyone.
2. Hat box flowers
If you plan a date, but you are worried about the freshness of the flowers, then just present hat box flowers! This is not only an original, but also a practical gift.
3. Bouquet of peonies or peony roses
Flowers with beautiful delicate buds and heady aroma are a great gift for romantic persons.


4. Bouquet of tulips
A bouquet of tulips will not only tell about your feelings, but also remind of the soon coming spring.


5. Author design bouquets
The unique combination of different flowers will tell about the individuality and originality of your beloved one.
Each flower has a special meaning, which will allow you to create a bouquet with a certain message. You can make a compliment, say about your feelings or even declare your love using a flower language.
Roses mean passion, love, beauty and joy.
Ranunculus convey admiration.
Tulips mean prosperity, joy and happiness.
Peonies symbolize love. They are a symbol of good luck.
Peony roses have the imprint of romance and tenderness.
Choose the right color scheme! Red roses will tell your beloved about your passionate love. Pink peonies emphasize femininity and sensuality. White or cream shades are a sign of purity and devotion. Orange and yellow shades are symbols of a new beginning, joy and warm feelings.
Choose and give flowers with love. Contact our florists and ask for a professional advice if you need, they will be glad to help you.
---
01.05.2020